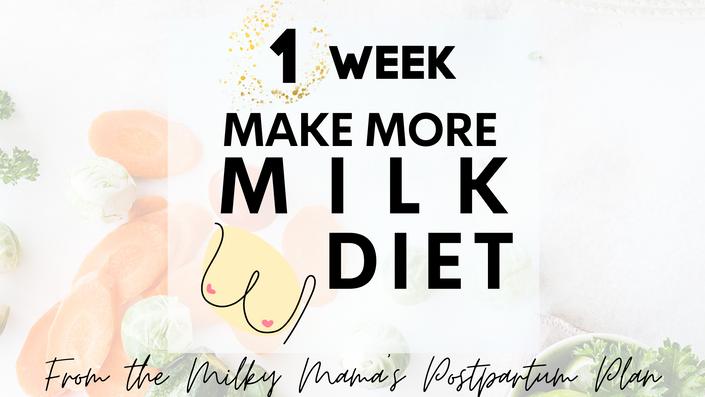 The One Week Make More Milk Diet
Increase Milk Supply Through Your Diet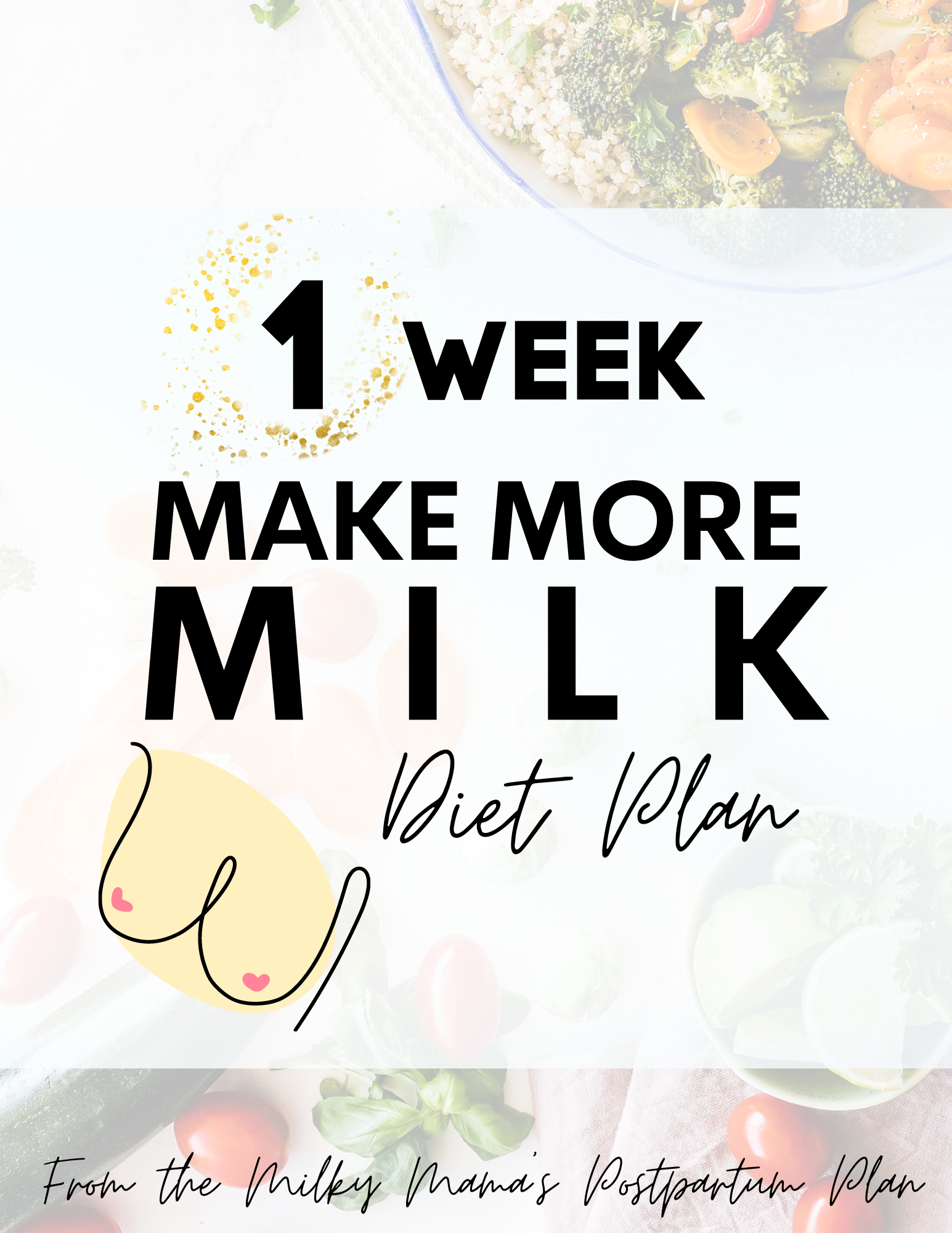 I have an amazing diet and exercise program aimed at helping breastfeeding mothers specifically lose the baby weight while maintaining a high milk supply (or possibly even increasing their milk supply).
This 1 week challenge is an offshoot of that program. It gives you a taste of the types of milk boosting recipes you will find in the Milky Mama's Postpartum Plan, you'll just get a lot more of them there (a 28 day meal plan worth), a 28 days fitness plan, and full guidance on how to lose the excess baby weight while breastfeeding.
It can be a great program for either
postpartum weight loss
increasing breastmilk supply
regaining strength postpartum
or any combination of the 3.
But this 1 week challenge is specifically designed for only 2 audiences:
Those who want to increase their breastmilk supply
And those who want to lose weight while maintaining a high milk supply
So get ready for a ton of amazing tips for increasing your breastmilk supply with nutritious whole foods and learn how to put them together to best increase your milk supply naturally through your diet!
Your Instructor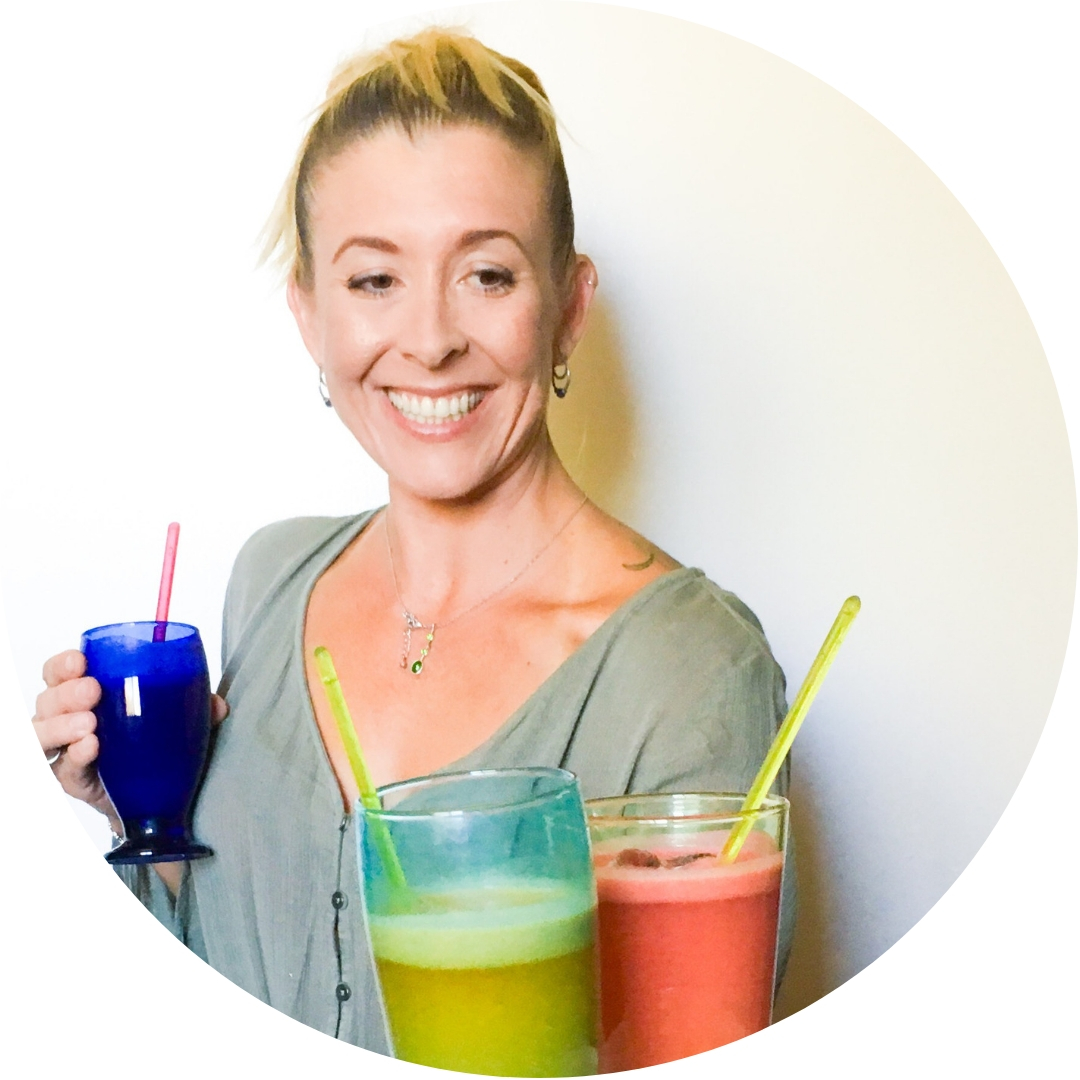 Allie is a mother of 3 little ladies who is certified in Nutrition and Lifestyle During Pregnancy, Child Nutrition and Cooking, who is also a Personal Fitness Trainer specializing in prenatal and postpartum fitness. She continually takes courses to further her knowledge to help you the best she can to navigate the ever changing recommendations in nutrition and fitness for pregnancy. She isn't a doctor, just a mommy of 3 with lots of experience in health, nutrition, and fitness that she is eager to share with you.
Course Curriculum
The One Week Make More Milk Diet Plan
Available in days
days after you enroll
Frequently Asked Questions
I am newly postpartum... can I use this diet plan?
You can absolutely use this diet plan to increase your breastmilk supply as soon as you are postpartum. I would recommend starting after 2-6 weeks however as you should be focusing on healing foods to repair your body during that time period in addition to foods to increase breastmilk supply.
I am a couple years postpartum, can I use this challenge?
Absolutely! Whether your goal is simply to increase your milk supply or if you are still trying to lose some excess baby weight but unsure how to while breastfeeding this challenge is perfect for you!
I am looking to lose weight, will this help?
Yes this lactogenic meal plan is designed with both weight loss and increasing milk supply in mind.
I'm not trying to lose any weight. If I use this diet will I drop weight?
If you are fueling your body with the whole food recipes from this plan and you are already at a healthy weight it should not cause you to lose any additional weight. Only if you are overweight or overeating to begin with will you see a weight reduction.
If you are accessing this from the Breastfeeding Beyond Babyhood summit don't forget to insert your code at checkout! ;)